---
RESEARCH
---
My general research area investigates the physiological, neurophysiological and biomechanical factors associated with fatigue, both the clinical symptom experienced by patients (neuromuscular diseases, cancer, ICU, multiple sclerosis) or aging populations and the fatigability during extreme (ultra-endurance, hypoxia) exercise. See current projects
In particular, my work is dedicated to understanding and treating fatigue in clinical populations. Indeed, fatigue has multifactorial and unresolved etiologies, which has led to a lack of mechanism-targeted interventions in patients. I investigate the ability of objective measures of fatigue such as sleep, inflammation, and deteriorated fatigue resistance (at the corticospinal and muscle levels) due to exercise to explain subjective fatigue. I aim to examine whether tailoring rehabilitation programs to the etiology of fatigue in clinical populations may improve this symptom and eventually enhance patients' quality of life.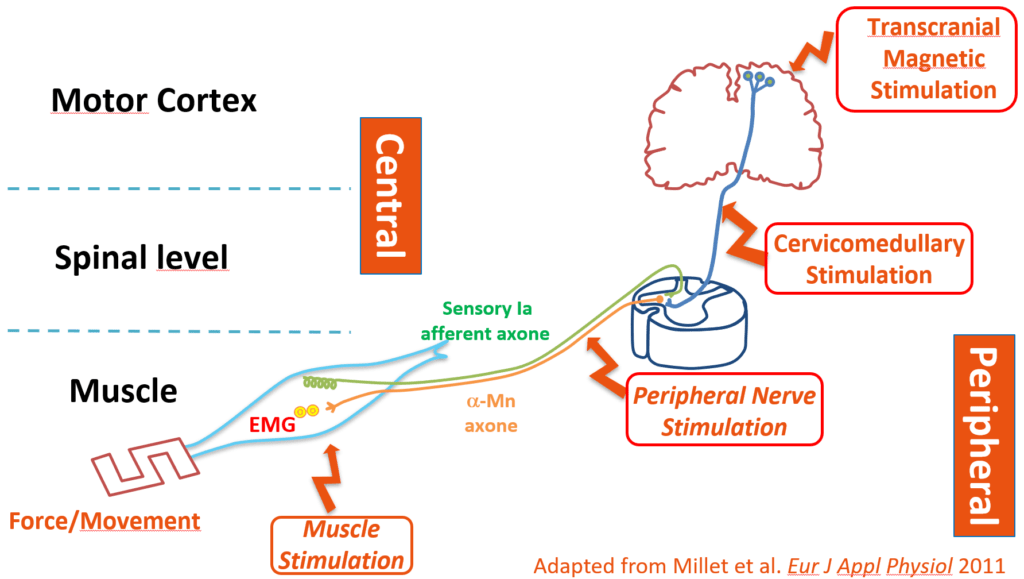 Neuromuscular function evaluation
I regularly publish in peer-reviewed journals and speak at scientific meetings. My research could not be done without the help of sponsors. See current funding.
The Inter-university Laboratory of Human Movement Biology (LIBM) brings together researchers, medical doctors and engineers, with strong recognition in the fields of physiology, biomechanics, and neurosciences applied to physical and sports activities and health. The creation of the LIBM had the ambition to develop a structure with high visibility in the field of life sciences applied to 'Sport & Health', not only by its size and scientific excellence, but also by its capacity for innovation and development, in relation with the sport, leisure and health industry.